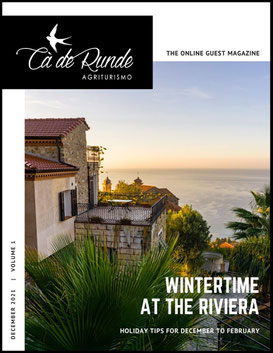 Agriturismo Cà de Runde is the perfect cosy winter hide out for those in search of a holiday that combines relaxation and being outdoors in an inviting climate. In the winter season, not only there are far less crowds, but there are many unique festivities and traditions only found this time of year. It's a great time to visit medieval villages nearby, go on hiking or cycling trips and enjoy typical winter dishes. 
This destination magazine aims to inspire you to make the most of your stay at Agriturismo Cà de Runde during wintertime and experience the Riviera dei Fiori to the fullest. 
So hit the download button below and browse through the magazine. It will make your winter blues disappear and get you ready to plan your winter getaway at the Riviera dei Fiori.
Cà de Runde - the online guest magazine
Winter edition.pdf
Adobe Acrobat Document
13.2 MB